Fifteen children regularly attend Sunday school with 4 teenagers, some parents and registered staff supervising. The Sunday school meets in a small hall in 'The Kirkie', St Combs at 10:45am when they are not involved in special services at the church.
At the service held in Lonmay Church on 2nd July 2023 the Sunday School gave a presentation of the subjects that they had covered during the term.  The children were presented with good attendance prizes.
Betty Ross Award
Orla Macdonald and Hattie Smith were presented with the Betty Ross Award on 2nd July 2023.
Charlie Buchan and Sophia Bruce received the Betty Ross award on 26th March 2023.
Madison Cooper and Zachary Buchan  were the Betty Ross Award winners in October 2022.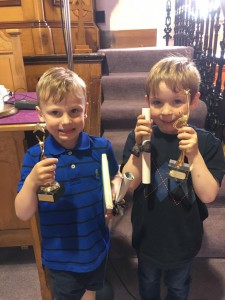 Pictured above are Harris Buchan and Sandy Smith who received the Betty Ross Award on 28th June 2022.