Lonmay Parish Church Profile
The linked charges of Lonmay and Crimond are located in the Buchan area of Aberdeenshire, in the North-East of Scotland.  Both parishes lie between the major fishing ports of Fraserburgh and Peterhead and are part of a commuter area for Peterhead, Fraserburgh and Aberdeen (located 40 miles to the south)
Introduction
For 42 years Lonmay Parish Church was linked with Rathen West Church.  After the retirement of the Minister of these churches in 2000, the link was broken and Lonmay was subsequently linked to Crimond and St. Fergus in 2002, with all three churches having Ministers and Readers providing pulpit supply.
During a Parish Re-appraisal in 2008, a link was formed between Lonmay and Crimond only.  It has been a challenging time without a Minister, but, thanks to the dedication of the Kirk Session and the support of Readers, Lay Preachers, Interim Moderators and, more recently, the Locum, the congregation has remained faithful.  The affiliated organisations have also maintained a healthy membership and some have even increased their numbers.
Our Locum, Tim Barker was appointed in September 2011  and since then has taken the majority of the Services at Lonmay and Crimond apart from seven Sundays per year.  In addition, Tim conducts funerals and the non-legal part of marriage services.  Tim attends the Boys' Brigade each week from September to March inclusive and is responsible for the programmes for the Anchor lads and the Junior Section.  Tim takes an assembly each month at Kininmonth Primary School; he also leads the Messy Church – see later in the profile.
The Church
The first Parish Church was built in St. Combs, when the village consisted of only a few houses, but, as the population increased, the building became too small and it was decided to build a new church and locate it more centrally within the parish.  In 1788 the church was built in Lonmay.
Two years previously, the nearby Loch of Strathbeg became land-locked as the result of a severe storm and the cargo of slates from a ship that had become marooned in the Loch was used for roofing the new church.
By 1870, church attendance had increased so much so, that a new wing was added to the church.  In recent times, a considerable amount of money has been spent on the fabric of the building, including the installation of heating and double glazing, disabled access and toilet facilities, redecoration and on the purchase of a new organ.  A new Church Hall was constructed beside the Church and dedicated in June 2016 and is widely used.
Services
Weekly services are held at 12 noon each Sunday and communion is celebrated twice a year. Many services are accompanied by PowerPoint presentations, which facilitate a wider range of services and encourage the congregation to feel more involved in the service.  One Sunday each month, the service takes the form of a Songs of Praise where the congregation choose their favourite hymns to be sung.
The Sunday School and parents are involved in special services at Christmas, Easter, Harvest Festival and June, at the end of the Sunday School session.  Boys' Brigade and the Guild also take an active part in their dedication services.
Members have an added opportunity to enjoy fellowship and to meet socially, when soup and refreshments are served after the morning service on the first Sunday of each month.
Sunday School
Sunday School is held each Sunday during term time in the small hall at The Kirkie in St Combs, except when the children are involved in special services at the church.    Approximately 15 children attend regularly and are well supported by parents.  They have a Bible story with relevant songs and activities in a large group then on occasions split into two smaller groups with the older children looking further into the bible story and relating it to their own lives.  At this point the younger children take part in more practical hands-on activities or movement activities linked with the chosen bible story. There is also singing of Junior Praise hymns or other songs chosen by the children to fit the theme.  The session always closes with a prayer and on frequent occasions this is either chosen or written by the children themselves. 
Four times a year the children attend Lonmay church where they present a 'play' based on the stories that they have learnt that term for the fellowship.  This is always greatly appreciated.  Attendance is regular and for a small area is well supported. In addition, there are three family services held each year in the Kirkie at St. Combs, to which the children and parents are encouraged to attend.
Messy Church
Messy Church commenced in 2016 with monthly sessions in The Kirkie, St. Combs, involving children of Primary School age and younger, and a parent.  The basis of Messy Church is to share Bible stories/characters in a way which involves everyone.
Normally after an opportunity to share, the theme is introduced to encourage everyone to think about what is going to happen.  There are then four different activities for everyone to complete, along with optional colouring sheet and Word Search puzzle.  The completed activities are then brought together to provide visual aids for the story. This is shared in a variety of ways.  After a song and prayer, light refreshments are served.  Being held in the village, enables families to attend once children have been home from school to change.
In January 2019, mainly since many children are involved in after-school activities and clubs, it was decided, regretfully, to suspend Messy Church until September, when a review will take place about its future.
Boys' Brigade
The 1st St Combs Boys' Brigade has been in existence since 1934 and is one of the few companies to carry on throughout the Second World War. The company of 36 boys meets in the St Combs Community Centre. This is a fantastic centre with excellent facilities.  The boys meet on a Tuesday evening between 6 and 9 p.m. with the three sections, Anchor, Junior and Company Sections.  The programme is varied and attractive and is a mixture of drill, physical activities and badge work.  The Company are working hard to recruit additional helpers and lads. They are affiliated to the Buchan Battalion which consists of 10 companies. In addition to their normal activities, they participate in most of the Battalion events and attend Lonmay Church for their dedication service and for special services such as Armistice.
Over 50's club
The Over 50's Club meets fortnightly in the St. Combs Community Centre with more than 60 people attending including a few from outwith the village.  In addition to a variety of speakers and entertainers, they enjoy concerts by the local school pupils and bus runs in the summer.
The Guild
Lonmay Guild membership is open to anyone wishing to share in supporting the Church and each other through worship, fellowship and service. Meetings are held monthly from September to May (see syllabus for changes) in the Church Hall.
Each meeting begins and ends with a short time of worship, usually centred on the Guild Theme for the year and the speaker or activity for the evening is also linked to the Theme or Discussion Topic. An Open Evening is arranged each year in support of one of the Guild Projects.
Fellowship is enjoyed during tea and refreshments served at each meeting, at the Guild Week Prayer Lunch, the Christmas `Pot Luck` meal and when meeting up with St. Fergus Guild for a meal out at Christmas.
Guild members also attend Presbyterial Guilds Together meetings with a variety of interesting speakers and join with Lonmay Work Party members to plan fundraising events and enjoy outings.
New members are always very welcome, so please come along and join our meetings at 7.00 pm on the first Monday of the month from September to May.
The Work Party
The Work Party is made up of Guild members and some other church members.  Their purpose is to raise funds for the Church, and each year, to that end, they arrange a quiz, a Daffodil buttery morning, and a Christmas Fayre.
The dedication and commitment of this group of people is greatly appreciated and enables the Church to continue to provide the wide and diverse activities outlined in this section.
Hospital Singing
This takes place on a rota basis with other Churches in the Fraserburgh area. Members and friends of Lonmay and Crimond Churches visit the local hospital on a Sunday evening to sing hymns to patients on the wards.  This is really appreciated by the patients who are invited to choose hymns for the Group to sing.
Cookery Club
The club began in 2014 and took place monthly from September to March in Lonmay Hall until early 2019. It was open to all members of Lonmay and Crimond Churches and their friends as well as other supporters of the church.  It featured different aspects of cooking with a view to encouraging more adventurous meals as the ingredients/dishes were suggested by the members themselves.  It was well supported by all ages and both churches and proved a fun, enjoyable incentive to try more interesting and diverse menus.  Meetings have finished for the time being.
Other Activities
From time to time short courses are held to explore the Christian Faith.  These are held in a non-threatening and friendly atmosphere.
Lonmay Parish Church also supports other Christian outreach events held in the north-east of Scotland, both in attendance and financially.
The Church explores alternative means of sharing the Gospel to enable more people to hear the Christian message.
Action Plan
An Action Plan was agreed by Kirk Session in 2012 and is reviewed on a regular basis.  The Plan is updated and amended every two years and is shared with all members.
The Community
The parish of Lonmay covers an area of approximately 20 square miles.  It stretches from St. Combs by the sea in the north to its southern boundary at Kininmonth.  The history of St. Combs is linked to the fishing industry, but now most of the working population are employed in the nearby towns of Fraserburgh and Peterhead and on oil rigs off shore.  From St. Combs (population 850) a sandy beach stretches 5 miles south to Rattray Head, with the Loch of Strathbeg R.S.P.B. Nature Reserve on its landward side.  Further inland and towards the West and South, the parish of Lonmay supports around 40 farms, which pursue both arable and livestock production.  In the fertile soil the famous Lonmay potatoes among other things flourish, and Buchan beef is also a well-known product of the area.
Community Facilities
There are two primary schools in the parish, one in St. Combs and the other in Kininmonth.  Older students have access to three Secondary Schools in Fraserburgh, Peterhead and Mintlaw, and North-East Scotland College (NESCOL) in Fraserburgh.
In St. Combs the Assembly of God have a small hall and services are held there on Sunday and once during the week.  Gospel services are also held in a recently built cafe, which also offers meals and snacks during the week, and in The Kirkie, an old established Church hall, where various preachers offer an evening service every Sunday.
A new purpose-built Community Centre in the village of St. Combs opened in 2014, and accommodates a number of community groups, including the Boys' Brigade, and provides a venue for some church events too.
A well-established and well maintained rural hall in Lonmay, approximately quarter of a mile from the church, is used for bowling, community events, such as the church quiz, and private functions.
At one time there were a number of small retailers in St. Combs, but now there are only two shops, which provide postal facilities, general merchandise and Buchan's ice cream (a well-known local delicacy).
There are also two hotels in the vicinity, The Tufted Duck in St. Combs and the Ban Car at Lonmay, which are extremely popular for weddings etc.
For the outdoor person, there are several golf courses (including one at nearby Inverallochy), playing fields and play park facilities, as well as opportunities for walking, surfing, wind surfing, kayaking and all types of fishing. There are also modern sports facilities, including a top class swimming pool, in the newly opened Community Centre in Fraserburgh.
Stewardship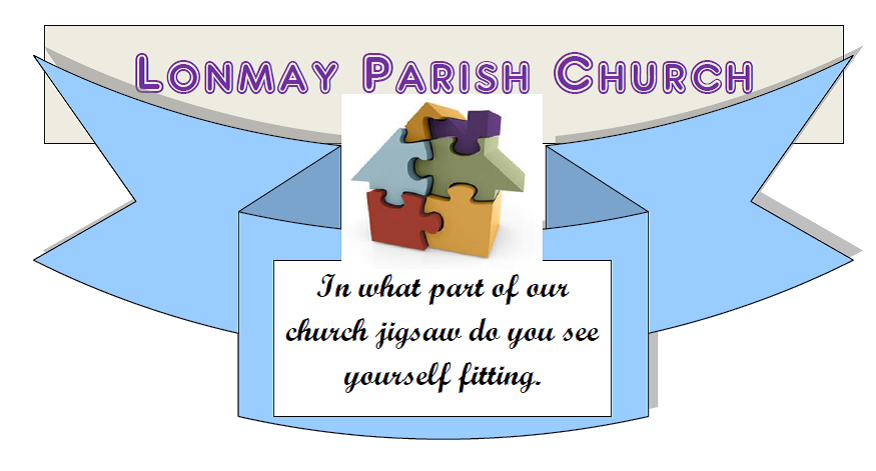 National Stewardship Programme
The National Stewardship Programme allows our congregation the opportunity to think about how we use our time, talents and money in serving God.  How do we cultivate these gifts, share them sacrificially and return them to God with increase?
The National Stewardship Programme was launched in 2011 and has already provided opportunities for congregations throughout Scotland to respond to the grace of the Lord Jesus Christ by entering into various themes within the programme.
We have now completed the three-year cycle which has informed members of the life and activities of Lonmay Church.  We are exploring the work of Mission and Discipleship within Buchan Presbytery and at a local level here in Lonmay.  To that end we are hoping that our new Mission and Discipleship member of staff will attend a Saturday event to help us focus on this aspect, and then lead the service on the Sunday to help us move forward.
Stewardship however, is not just for a specific time of the year or for a special event. We are all able to be involved in Stewardship on a weekly basis so please come and see what Lonmay Church has to offer you and find out more how you can be part of our Church jigsaw.