COVID-19 Update 26th March 2021
Message from Tim:
At a joint Kirk Session meeting held last evening, it was decided that, as from Sunday (4th April) the churches at both Crimond and Lonmay will re-open.
Crimond will hold its service at 10.15 a.m. Lonmay will hold its service at 12 noon. The restrictions in place before the recent closure remains in place, so there will be a limited number allowed into church, social distancing, details of those attending and hand sanitizers. Singing is not allowed at present so we will follow the same procedure as was used between August and Christmas. Elders will be contacting the members in their Districts. Announcements will be placed on Crimond Facebook and on the Lonmay website. A video will be placed on YouTube each week under 'Tim's Ministry' which will provide the message from the Sunday service. There will be mixed feelings about this decision, as some have found the Zoom services helpful. We will review the situation at the next Sessions which are due to be held at the end of April. We are very mindful of the fact that some of you would love to join us in church but are unable due to restrictions, or feel that it is still not a safe environment. May I stress that research has proved that one of the safest places to visit in these times are churches, where the highest standard of cleanliness are met. Thank you for all your prayers, help and support. Tim
COVID-19 Update October 2020
Communion Sunday As you are aware, this is due to be held on Sunday 1 November, but the current virus regulations, do not allow for these services to take place. Therefore, there will be a normal service at Lonmay on 1 November at 12 noon. At 7 p.m. that same day there will be a virtual Communion Service via Zoom, which will be led by Rev. Fred Coutts, who has taken Communion services in the past. To access Zoom, you will need to ensure that TIM has your e-mail address or phone number, so that he can provide you with the details to access Zoom.  You DO NOT need to have the Zoom software on your computers, as the details you will receive will enable you to join the service.  Further details will be issued to all who have requested access nearer the event. Remembrance Sunday As you may already be aware, due to the current restrictions many War Memorial events have been cancelled.  However, while we will maintain our limited number of people who can attend the service at Lonmay, we will also hold 'An Act of Worship', at the War Memorial on Sunday 8 November at 11.55 a.m. On arrival, please remain in your cars until asked to join at the War Memorial. You will be asked to maintain the 2m social distancing and adhere to any face-mask restrictions which may apply at the time. Wreaths will be laid by representatives of the Boys Brigade and Council. A service will follow in church, but limited numbers will be admitted due to current restrictions.
Lonmay Church Services
Lonmay Church services are held each week at 12 noon;  any deviations from this are noted in the calendar of services below.  Although mainly traditional in style, more recent hymns and songs are included at most services.  PowerPoint is used to show the words of the hymns and songs, and also the theme and points to the message.  A locum takes the majority of the services.  Calendars of services and preachers for 2016 and 2017 are given at the bottom of this page. Four times a year (Christmas, Easter, Prize-giving in June and at Harvest) the children from the Sunday School take part.  They are well supported by family and friends.  In addition there are three family services annually.  Descriptions and images of these events are given in the Sunday School page for this Group. The Boys' Brigade and Guild have an annual dedication service in which they take an active part.  Descriptions and images of these services are given on the pages for these Groups. On the first Sunday of each month, between October and May, soup and sweet is served in the church hall after the morning service.  This provides an opportunity for fellowship. Harvest Thanksgiving October 2017 (click on an image to enlarge)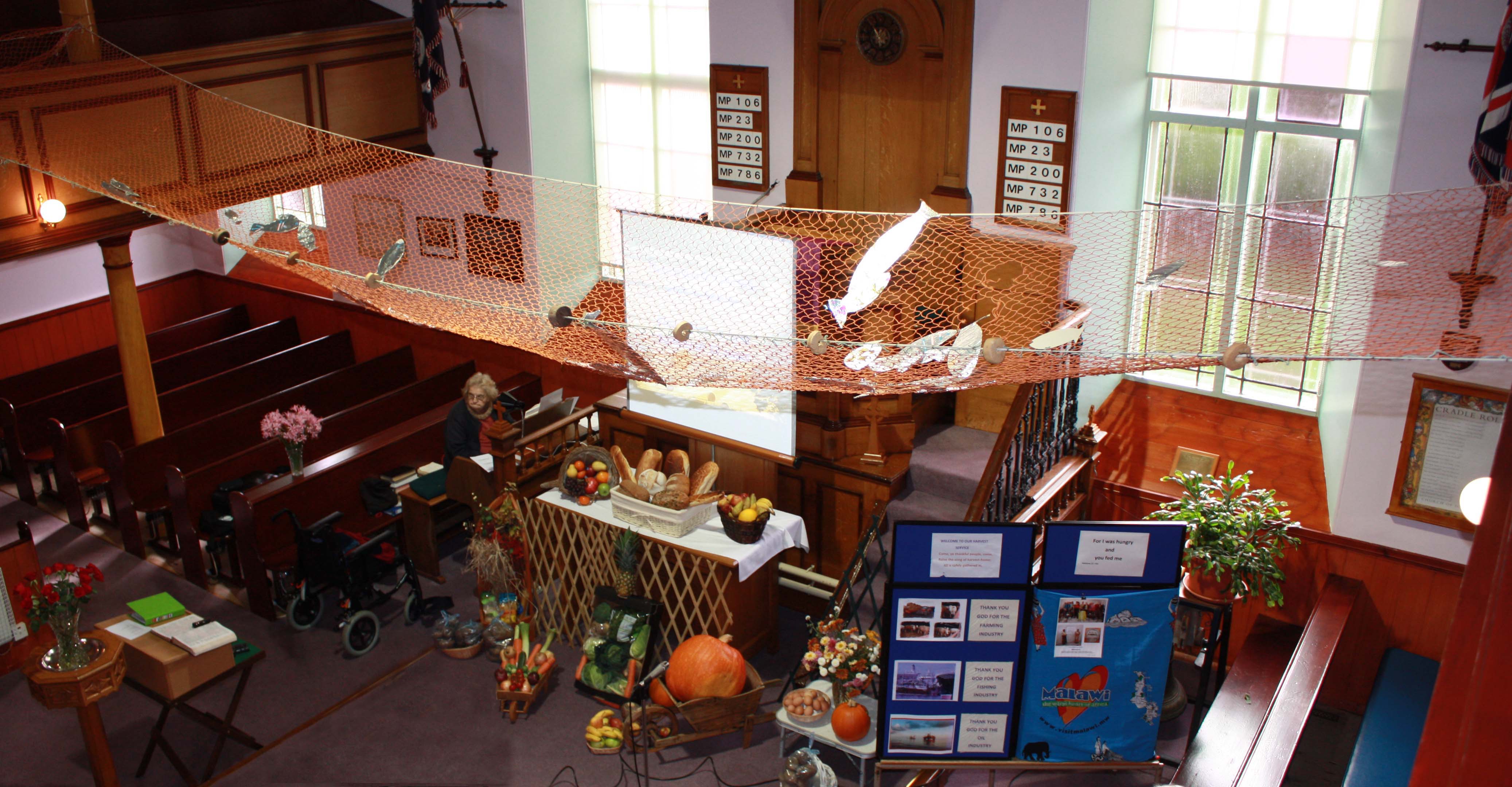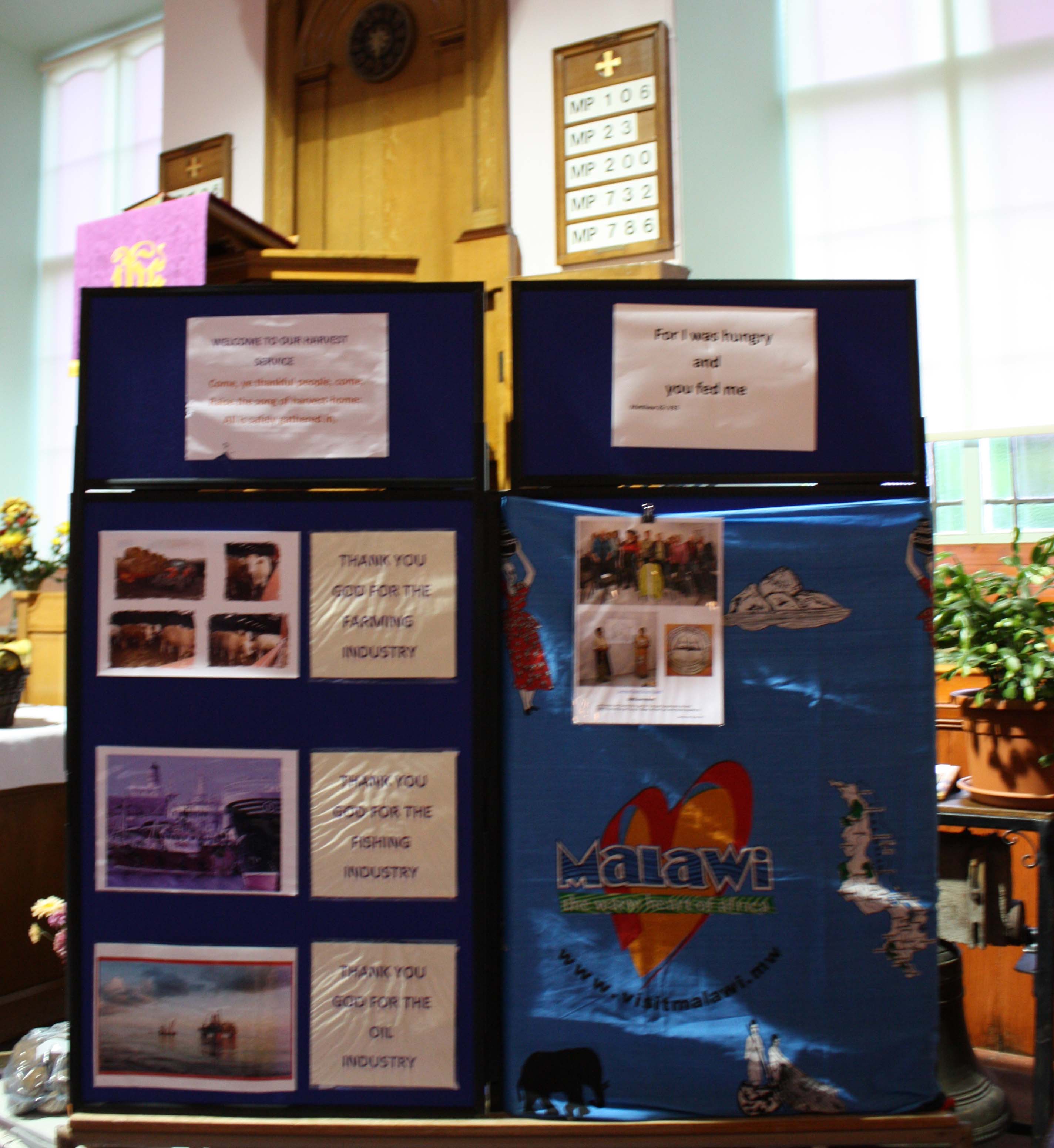 Also see Archive page for summaries and images of earlier events.  
Crimond and Lonmay Calendars of Services and Preachers:
2019
| | | |
| --- | --- | --- |
| Date | Crimond | Lonmay |
| January |   |   |
| 06/01/2019 | Tim | Tim |
| 13/01/2019 | Tim | Tim |
| 20/01/2019 | David McFie | David McFie |
| 27/01/2019 | Tim | Tim |
| February |   |   |
| 03/02/2019 | Tim | Tim |
| 10/02/2019 | Tim | Tim |
| 17/02/2019 | Tim | Tim |
| 24/02/2019 | Tim | Tim |
| March |   |   |
| 03/03/2019 | Tim | Tim |
| 10/03/2019 | Tim | Tim |
| 17/03/2019 | Ian Ross | Ian Ross |
| 24/03/2019 | Tim | Tim |
| 31/03/2019 | Tim | Tim |
| April |   |   |
| 07/04/2019 | Tim | Tim |
| 14/04/2019 | Tim | Tim |
| 21/04/2019 | Tim | Tim |
| 28/04/2019 | Tim | Tim |
| May |   |   |
| 05/05/2019 | Tim | Tim |
| 12/05/2019 | Tim | Tim |
| 19/05/2019 | Communion – Fred Coutts | Communion – Fred Coutts |
| 26/05/2019 | Tim | Tim |
| June |   |   |
| 02/06/2019 | Tim | Tim |
| 09/06/2019 | Tim | Tim |
| 16/06/2019 | Ian Ross | Ian Ross |
| 23/06/2019 | Tim | Tim |
| 30/06/2019 | Tim | Tim |
| July |   |   |
| 07/07/2019 | Tim | Tim |
| 14/07/2019 | Tim | Tim |
| 21/07/2019 | Holiday Club | Tim |
| 28/07/2019 | Tim | Tim |
| August |   |   |
| 04/08/2019 | Tim | Tim |
| 11/08/2019 | Tim | Tim |
| 18/08/2019 | to be confirmed | to be confirmed |
| 25/08/2019 | Tim | Tim |
| September |   |   |
| 01/09/2019 | Tim | Tim |
| 08/09/2019 | Tim | Tim |
| 15/09/2019 | to be confirmed | to be confonfirmed |
| 22/09/2019 | Tim | Tim |
| 29/09/2019 | Tim | Tim |
| October |   |   |
| 06/10/2019 | Tim | Tim |
| 13/10/2019 | Tim | Tim |
| 20/10/2019 | Tim | Tim |
| 27/10/2019 | Tim | Tim |
| November |   |   |
| 03/11/2019 | Communion –  Fred Coutts | Communion –  Fred Coutts |
| 10/11/2019 | Tim | Tim |
| 17/11/2019 | Tim | Tim |
| 24/11/2019 | Tim | Tim |
| December |   |   |
| 01/12/2019 | Tim | Tim |
| 08/12/2019 | Tim | Tim |
| 15/12/2019 | Tim | Tim |
| 22/12/2019 | Tim | Tim |
| 29/12/2019 | Tim | Tim |