Lonmay Church services are held each week at 12 noon;  any deviations from this are noted in the calendar of services below.  Although mainly traditional in style, more recent hymns and songs are included at most services.  PowerPoint is used to show the words of the hymns and songs, and also the theme and points to the message.  A locum takes the majority of the services.  Calendars of services and preachers for 2016 and 2017 are given at the bottom of this page.
Four times a year (Christmas, Easter, Prize-giving in June and at Harvest) the children from the Sunday School take part.  They are well supported by family and friends.  In addition there are three family services annually.  Descriptions and images of these events are given in the Sunday School page for this Group.
The Boys' Brigade and Guild have an annual dedication service in which they take an active part.  Descriptions and images of these services are given on the pages for these Groups.
On the first Sunday of each month, between October and May, soup and sweet is served in the church hall after the morning service.  This provides an opportunity for fellowship.
Harvest Thanksgiving October 2017
(click on an image to enlarge)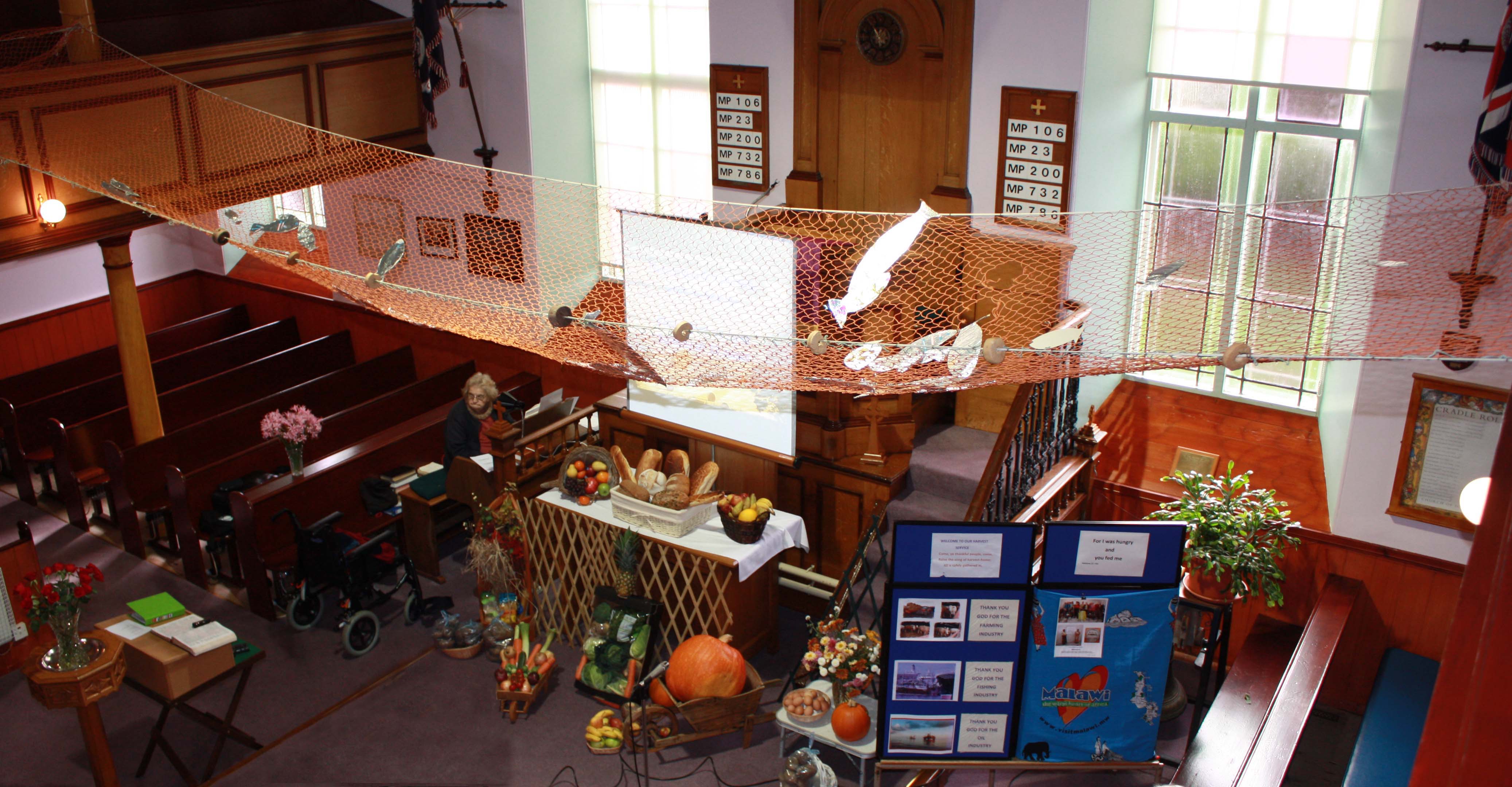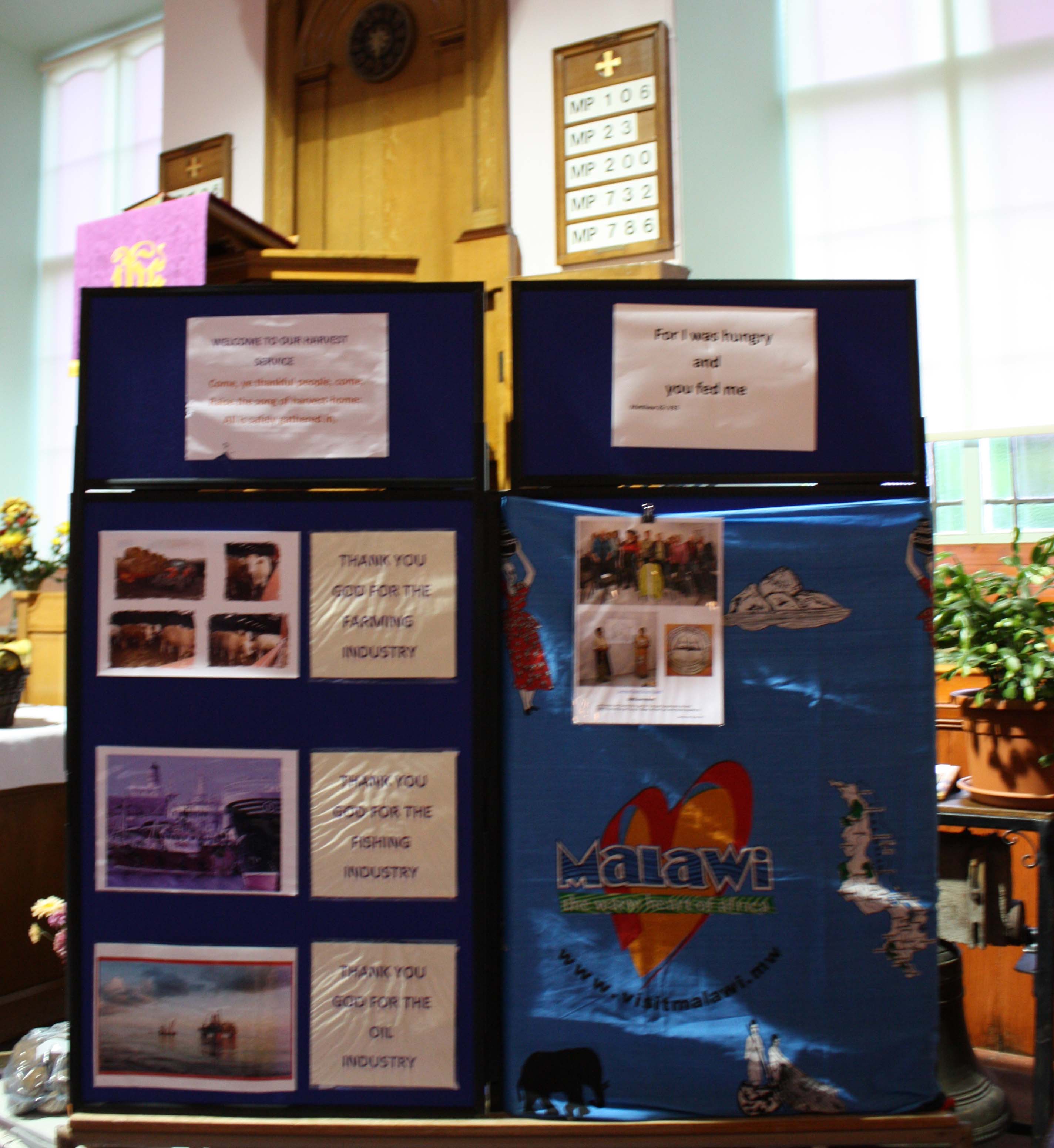 Also see Archive page for summaries and images of earlier events.
Crimond and Lonmay Calendars of Services and Preachers:
2019
| | | |
| --- | --- | --- |
| Date | Crimond | Lonmay |
| January | | |
| 06/01/2019 | Tim | Tim |
| 13/01/2019 | Tim | Tim |
| 20/01/2019 | David McFie | David McFie |
| 27/01/2019 | Tim | Tim |
| February | | |
| 03/02/2019 | Tim | Tim |
| 10/02/2019 | Tim | Tim |
| 17/02/2019 | Tim | Tim |
| 24/02/2019 | Tim | Tim |
| March | | |
| 03/03/2019 | Tim | Tim |
| 10/03/2019 | Tim | Tim |
| 17/03/2019 | Ian Ross | Ian Ross |
| 24/03/2019 | Tim | Tim |
| 31/03/2019 | Tim | Tim |
| April | | |
| 07/04/2019 | Tim | Tim |
| 14/04/2019 | Tim | Tim |
| 21/04/2019 | Tim | Tim |
| 28/04/2019 | Tim | Tim |
| May | | |
| 05/05/2019 | Tim | Tim |
| 12/05/2019 | Tim | Tim |
| 19/05/2019 | Communion – Fred Coutts | Communion – Fred Coutts |
| 26/05/2019 | Tim | Tim |
| June | | |
| 02/06/2019 | Tim | Tim |
| 09/06/2019 | Tim | Tim |
| 16/06/2019 | Ian Ross | Ian Ross |
| 23/06/2019 | Tim | Tim |
| 30/06/2019 | Tim | Tim |
| July | | |
| 07/07/2019 | Tim | Tim |
| 14/07/2019 | Tim | Tim |
| 21/07/2019 | Holiday Club | Tim |
| 28/07/2019 | Tim | Tim |
| August | | |
| 04/08/2019 | Tim | Tim |
| 11/08/2019 | Tim | Tim |
| 18/08/2019 | to be confirmed | to be confirmed |
| 25/08/2019 | Tim | Tim |
| September | | |
| 01/09/2019 | Tim | Tim |
| 08/09/2019 | Tim | Tim |
| 15/09/2019 | to be confirmed | to be confonfirmed |
| 22/09/2019 | Tim | Tim |
| 29/09/2019 | Tim | Tim |
| October | | |
| 06/10/2019 | Tim | Tim |
| 13/10/2019 | Tim | Tim |
| 20/10/2019 | Tim | Tim |
| 27/10/2019 | Tim | Tim |
| November | | |
| 03/11/2019 | Communion –  Fred Coutts | Communion –  Fred Coutts |
| 10/11/2019 | Tim | Tim |
| 17/11/2019 | Tim | Tim |
| 24/11/2019 | Tim | Tim |
| December | | |
| 01/12/2019 | Tim | Tim |
| 08/12/2019 | Tim | Tim |
| 15/12/2019 | Tim | Tim |
| 22/12/2019 | Tim | Tim |
| 29/12/2019 | Tim | Tim |